Classic Tourbillon
MANUFACTURE
4 NEW TOURBILLON CELEBRATE FREDERIQUE cONSTANT'S 35TH ANNIVERSARY
Frederique Constant's very first appearance at the 2023 Watches and Wonders exhibition coincides with a significant anniversary for the brand, which turns thirty-five this year. To mark the occasion, the firm is unveiling an all-new version of a piece that embodies its expertise and philosophy: the Classic Tourbillon Manufacture. The tourbillon in question, developed entirely in-house and hand-assembled in its workshops, comes here in its finest watchmaking livery: three hands housed in a 39-millimetre 18K rose gold case or steel case with a blue or silver-coloured dial.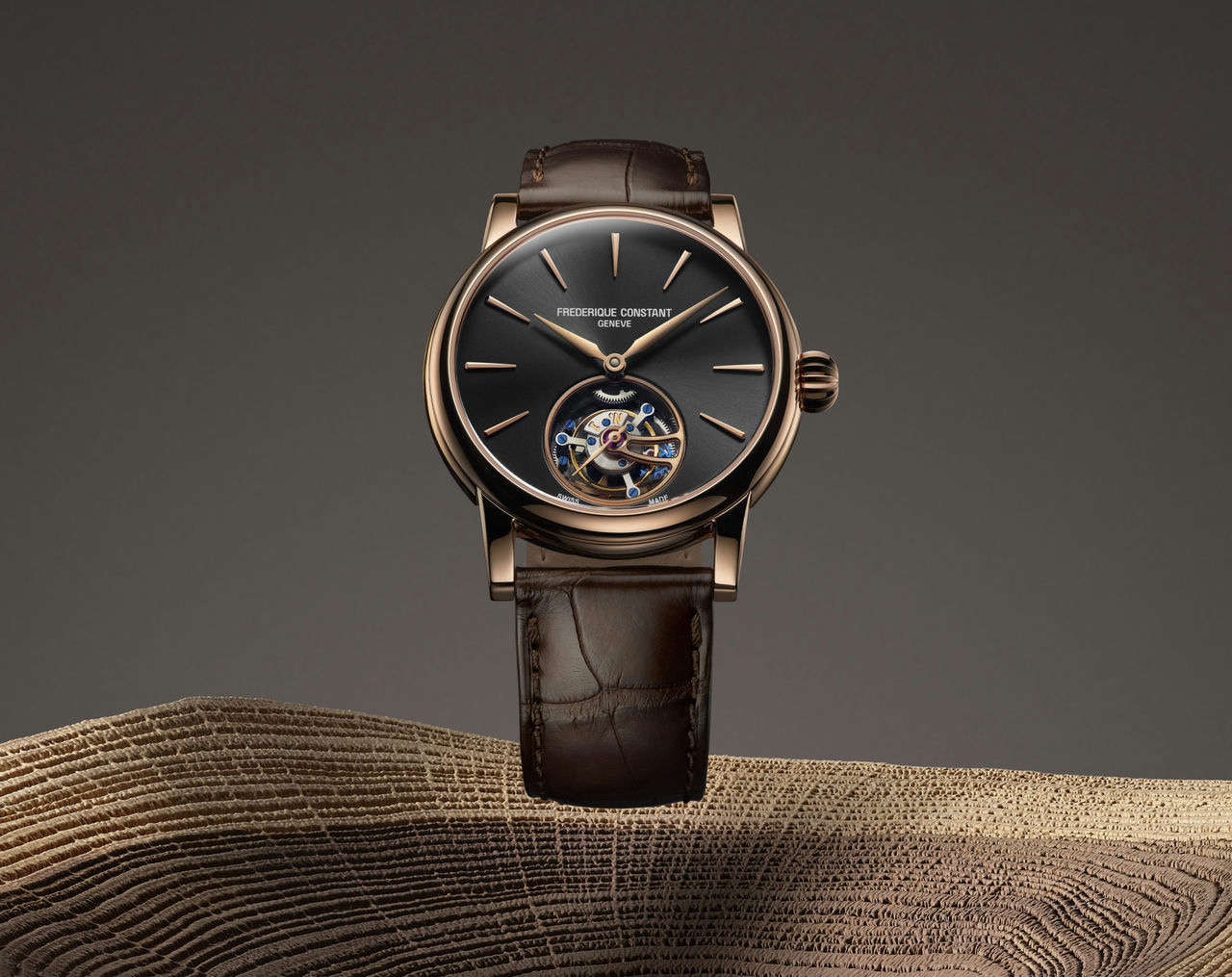 Manufacture
An iconic watch
Not only is 2023 Frederique Constant's 35th anniversary, it's also the fifteenth anniversary of the brand's first Manufacture tourbillon movement, released in 2008 – and celebrating two anniversaries calls for two creations.
After a first rose gold version (of which just 150 were made) presented at the Geneva Watches and Wonders show, Frederique Constant is therefore continuing its 35th anniversary celebrations with two new editions of its Classic Tourbillon Manufacture in steel, with 350 of each version being made.
These two new variations are a further embodiment of Frederique Constant's original recipe for success: providing Swiss Made luxury watches at affordable prices. The steel version of the Classic Tourbillon Manufacture is one of the most attractive offerings on the market right now when it comes to presenting a watchmaking complication in a classic design.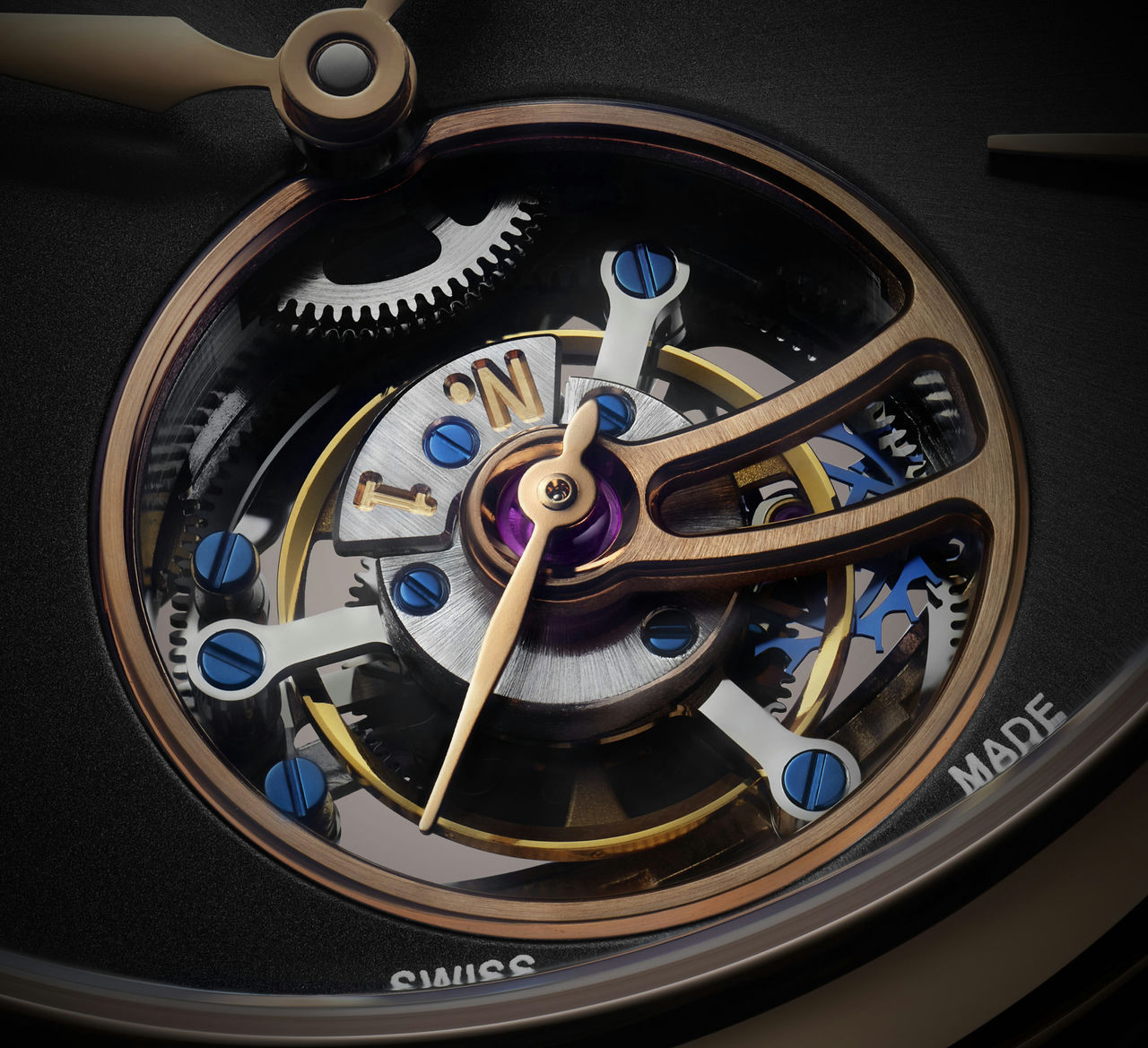 Manufacture
limited edition
Founded in 1988, Frederique Constant is celebrating its thirty-fifth anniversary in 2023. While a large number of festive events will be held over the course of the year, the Manufacture was keen to start by focusing on a piece that epitomises its journey: its Manufacture tourbillon. First unveiled 15 years ago in 2008, the FC-980 movement immediately became one of the firm's showcase developments, and has been used to power this brand-new Classic Tourbillon Manufacture.

The anniversary also coincides with the firm's very first time at Watches and Wonders, so in a noteworthy symbolic gesture, the Classic Tourbillon Manufacture will be unveiled live from the world's foremost watchmaking exhibition, held in Frederique Constant's home territory: Geneva.
Manufacture
The bewitching tourbillon
Today, the Frederique Constant manufacture boasts a high degree of integration, with no fewer than 30 calibers developed in-house. One of these is its tourbillon, fitted with a silicon escapement wheel and anchor. This design choice allows owners to benefit from a non-magnetic movement unaffected by variations in temperature, thus helping to ensure the watch stays accurate, in keeping with the original vocation of the tourbillon.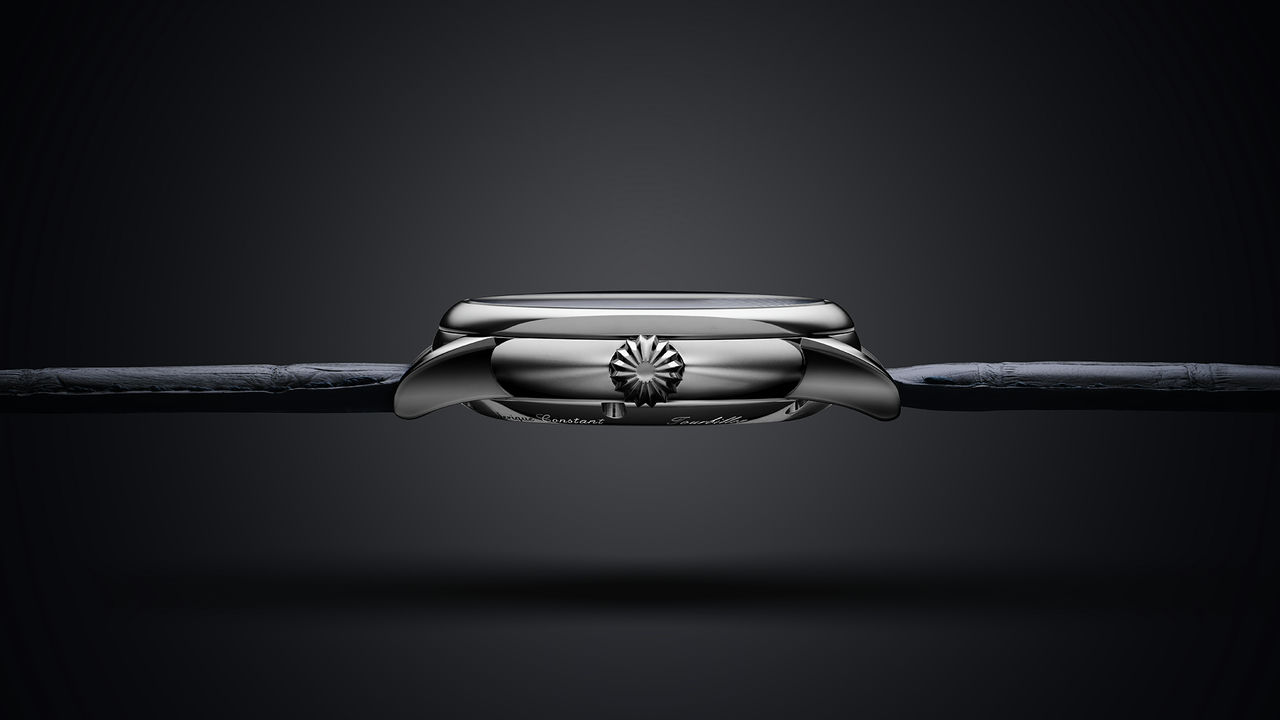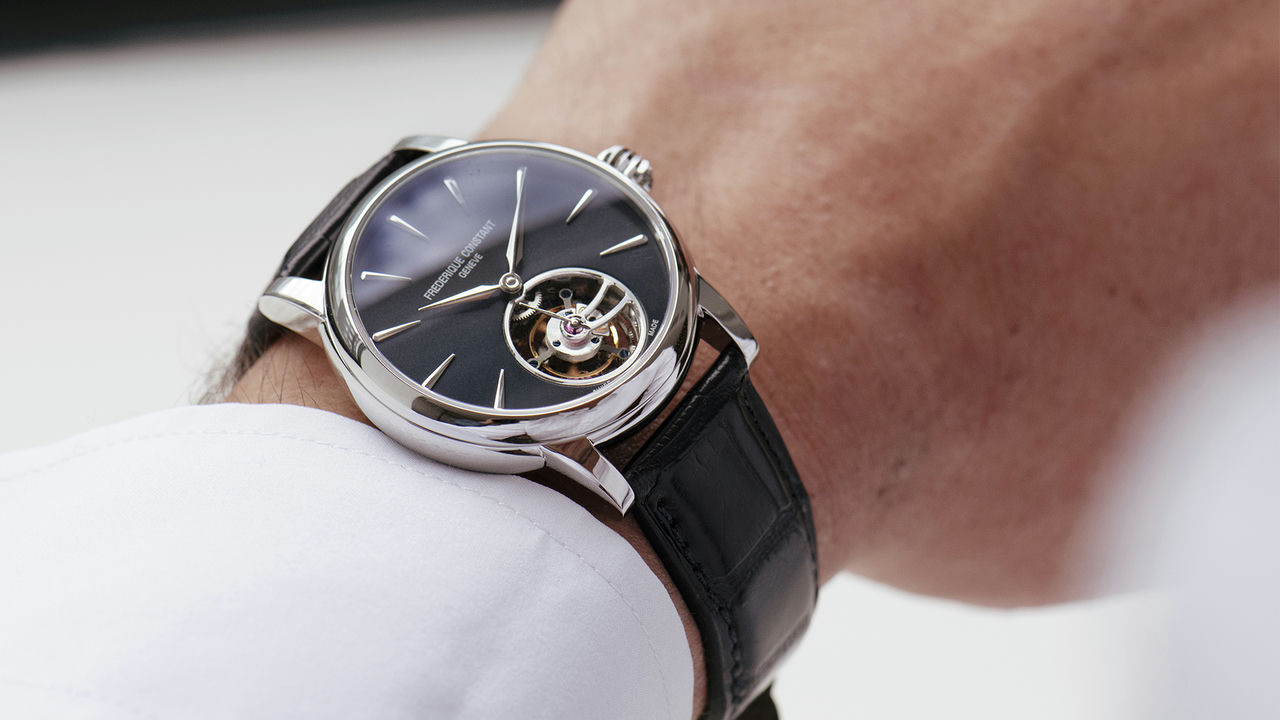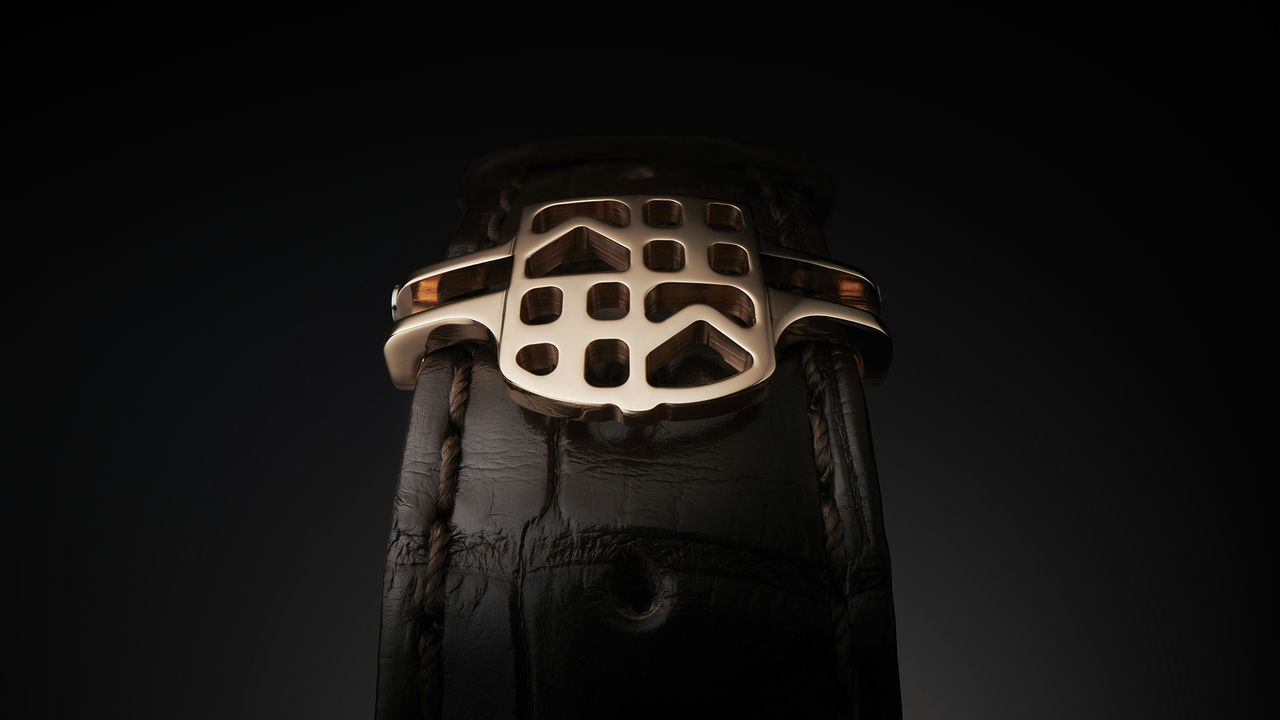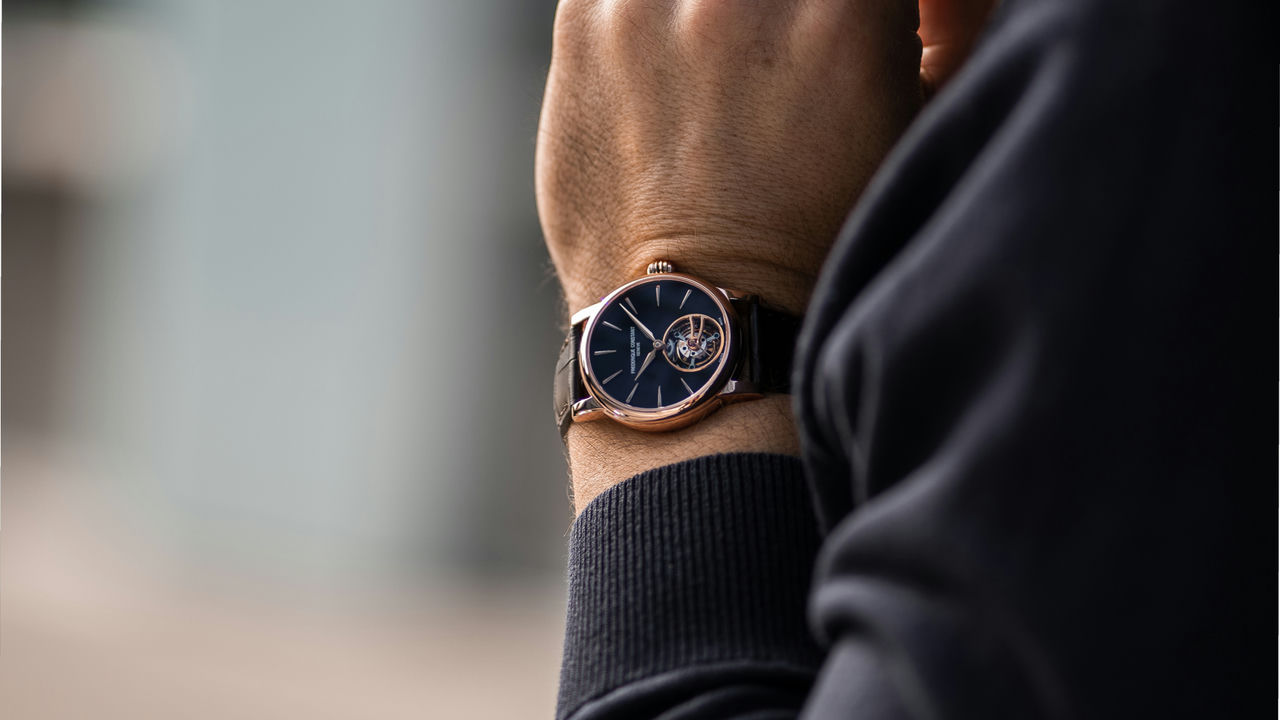 "The art of watchmaking is our passion, innovation is our mission, the tourbillon is one of the most beautiful interpretations" – Romain Valette, Frederique Constant Watchmaker
Manufacture
made of 81 components
A discreet hand passing above the tourbillon cage marks off the seconds. The cage itself – made of 81 components – is engraved with the individual serial number of the watch, also to be found on the rim of the sapphire caseback. This reveals the inner workings of the FC-980 caliber, to which all the finishings of traditional watchmaking such as bevelling, beading, circular graining, straight-grained flanks and mirror polishing have been applied. The movement has a 38-hour power reserve.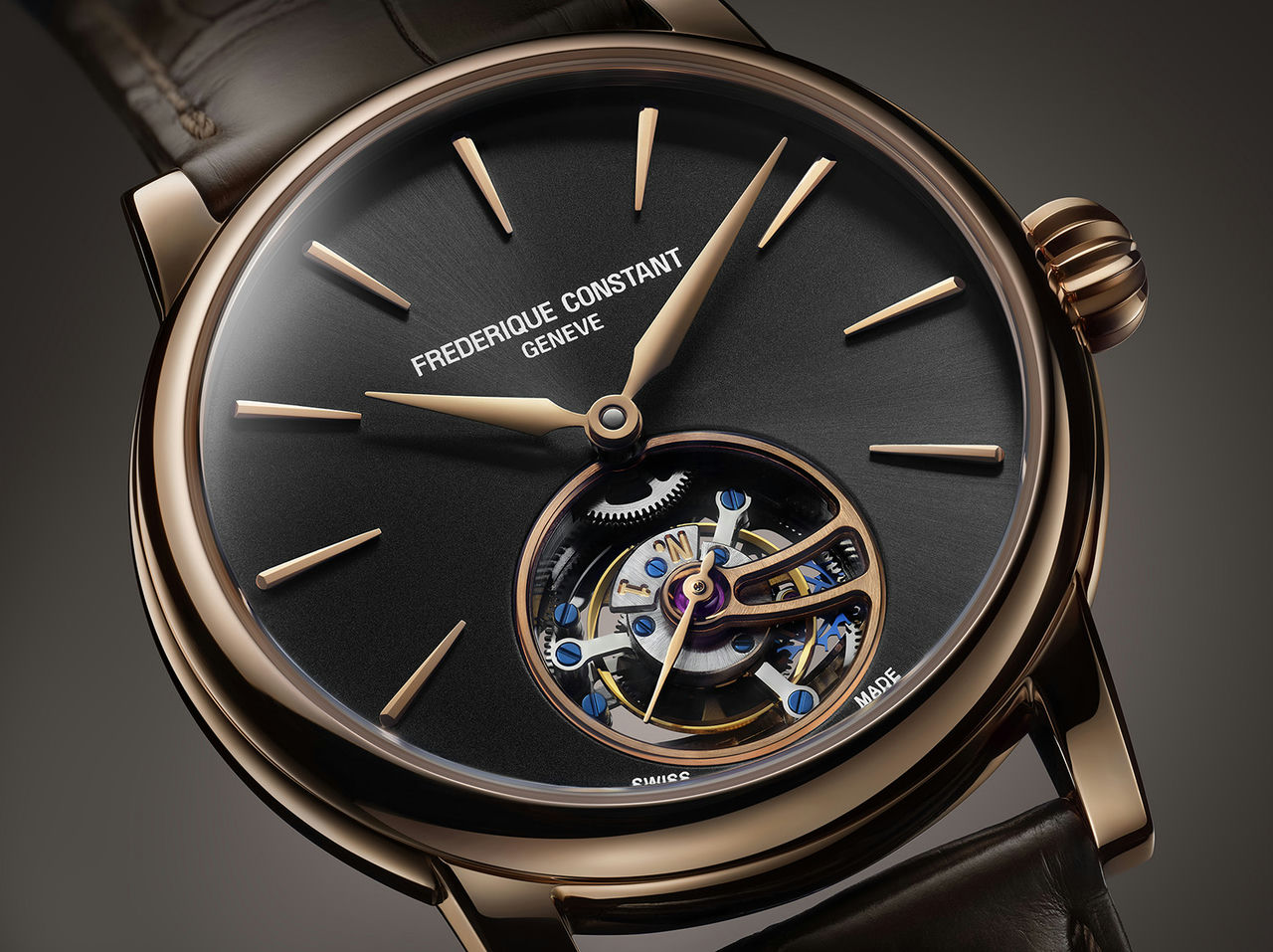 Manufacture
TWO ALTERNATIVES WITH A MODERN ETHOS
The two pieces unveiled today offer variations in blue and silver, giving them a highly contemporary aspect. The first features a sun-brushed midnight blue dial in a fully-polished steel case mounted on a matte blue alligator strap.
The second strikes a different tone with a sun-brushed silver-coloured dial atop the same strap. The individual number of each piece is marked on the tourbillon cage and engraved on the caseback, through which discerning collectors can admire the finishings on the FC-980 Manufacture movement – bevelling, beading, circular graining, straight-grained flanks and mirror polishing, all applied in the finest Swiss tradition.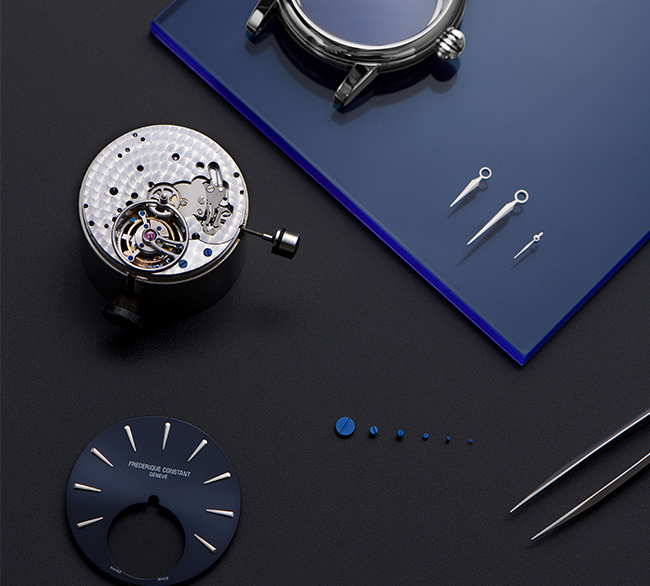 Manufacture
Sobriety and refinement
On the dial, purity is the watchword, with applique hour markers and hand-polished golden hands (redesigned to be narrower and longer) gliding over an anthracite grey sun-brushed dial. In addition, the hour markers and hands now feature diamond cut edges, ensuring the brightest gleam possible.
The Classic Tourbillon Manufacture comes on a dark matte brown leather strap sporting a deployment clasp that proudly bears the Frederique Constant coat-of-arms, especially reserved for Manufacture pieces.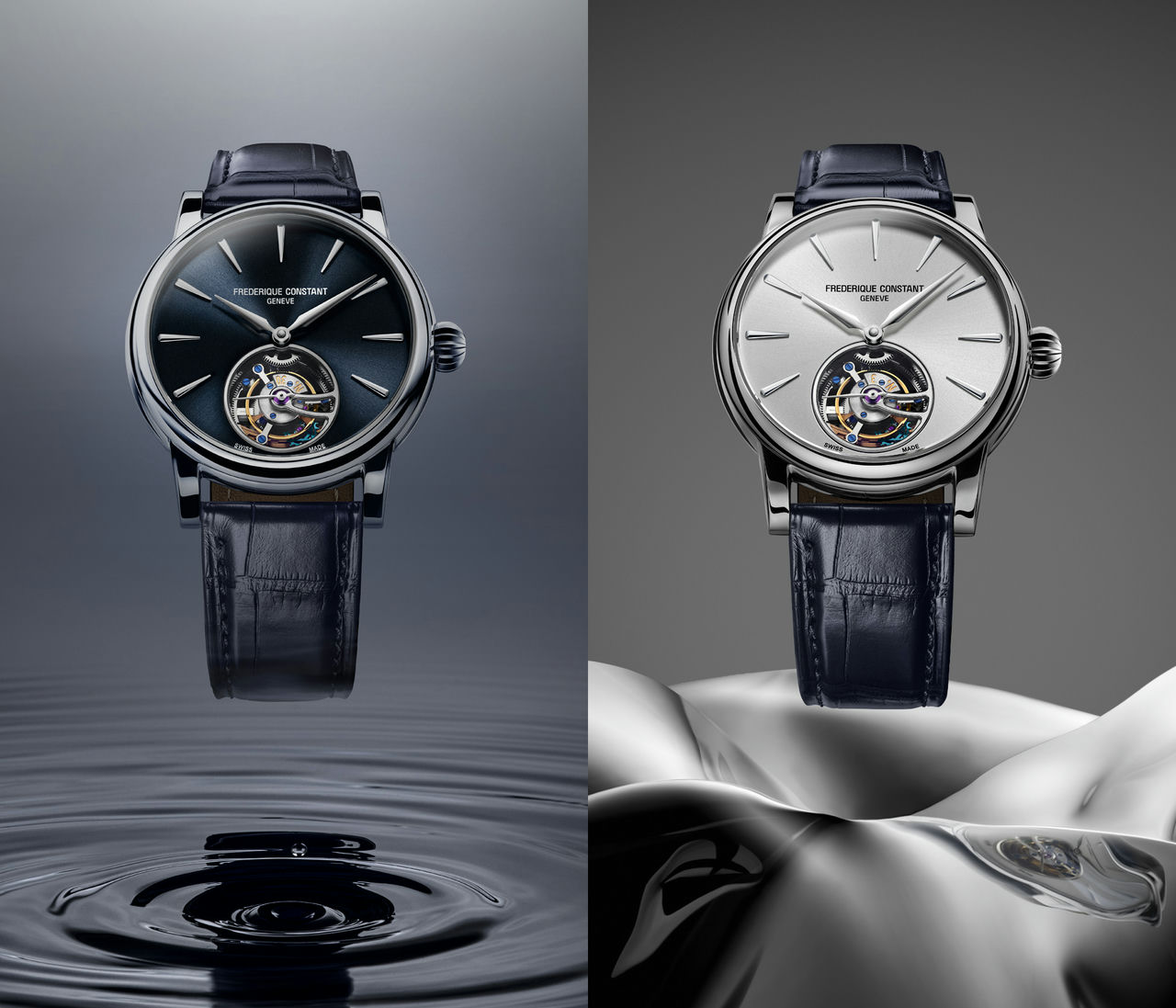 the poweR of youth and its future prospects
While celebrating the past is all well and good, at age 35 Frederique Constant is still a young Manufacture with virtually boundless potential; and so it is that in addition to its main collections, the aim of which is to provide carefully crafted yet affordable watches, the firm has gradually extended its range to include more select timepieces destined for experienced collectors – and the tourbillon is without any doubt one of their most prized complications. As it looks to the future, Frederique Constant is thus seeking to provide ever more sophisticated watchmaking, featuring increasingly delicate aesthetics and constantly revised and enhanced finishes
Classic Tourbillon Manufacture
If you wish to receive more information or pre-order our Classic Tourbillon Manufacture,
please fill in the form below.