FREDERIQUE CONSTANT x FELIPAO
For the first time in its history, the Swiss manufacture Frederique Constant launches a limited edition of 100 pieces specially. And it does so in collaboration with one of the most recognized pop artists: Felipao. All watches will be accompanied by a numbered NFT a small sculpture of his characteristic polyhedral "Menina".
This unique and charismatic collaboration has focused on the Highlife Automatic COSC model, the brand's best-seller that features a modern design in line with a young audience interested in the metaverse and NFTs. Felipao has left his artistic mark on the polyhedral design of the dial and all watches will be accompanied by a numbered NFT created by the Barcelona agency Vottun (which allows the owner a number of advantages when acquiring special pieces or participating in events organized by and at the Manufacture) and a small sculpture of his characteristic polyhedral "Menina".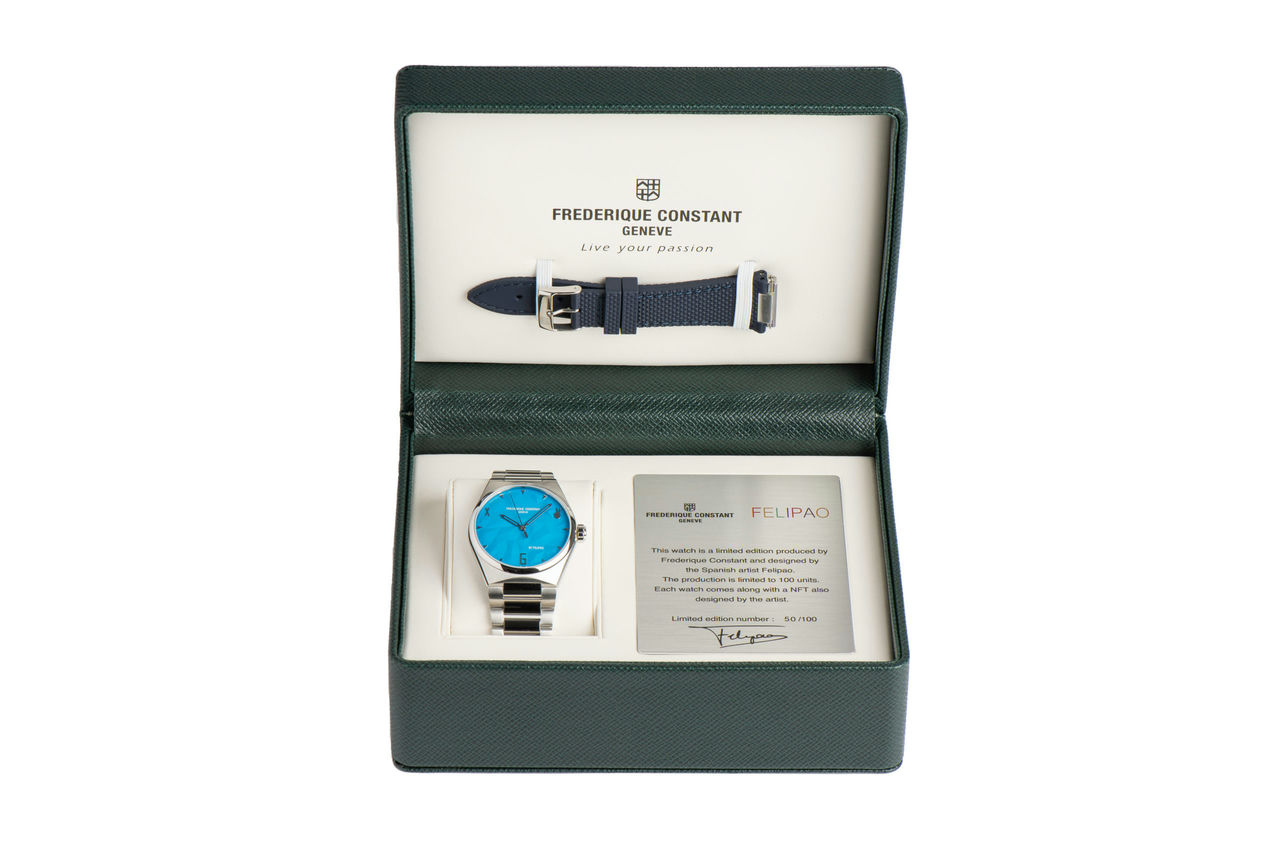 Additional information
Highlights
| | |
| --- | --- |
| Functions | |
| Type of movement | |
Movement
| | |
| --- | --- |
| REFERENCE  | |
| Type of movement | |
| Power reserve (hours) | |
| Vibrations per hour | |
| Jewels | |
Case
| | |
| --- | --- |
| Material | |
| Colour | |
| Diameter or dimensions (mm) | |
| Thickness (mm) | |
| Lug width (mm) | |
| Water-resistance (ATM) | |
Dial
Strap
| | |
| --- | --- |
| Material | |
| Colour | |
| Dimensions (mm) | |
| Buckle | |
| Buckle width | |
| Strap width (=lug width) | |
Extra strap included
Certificate
Limited edition of (number of pieces)
Giftbox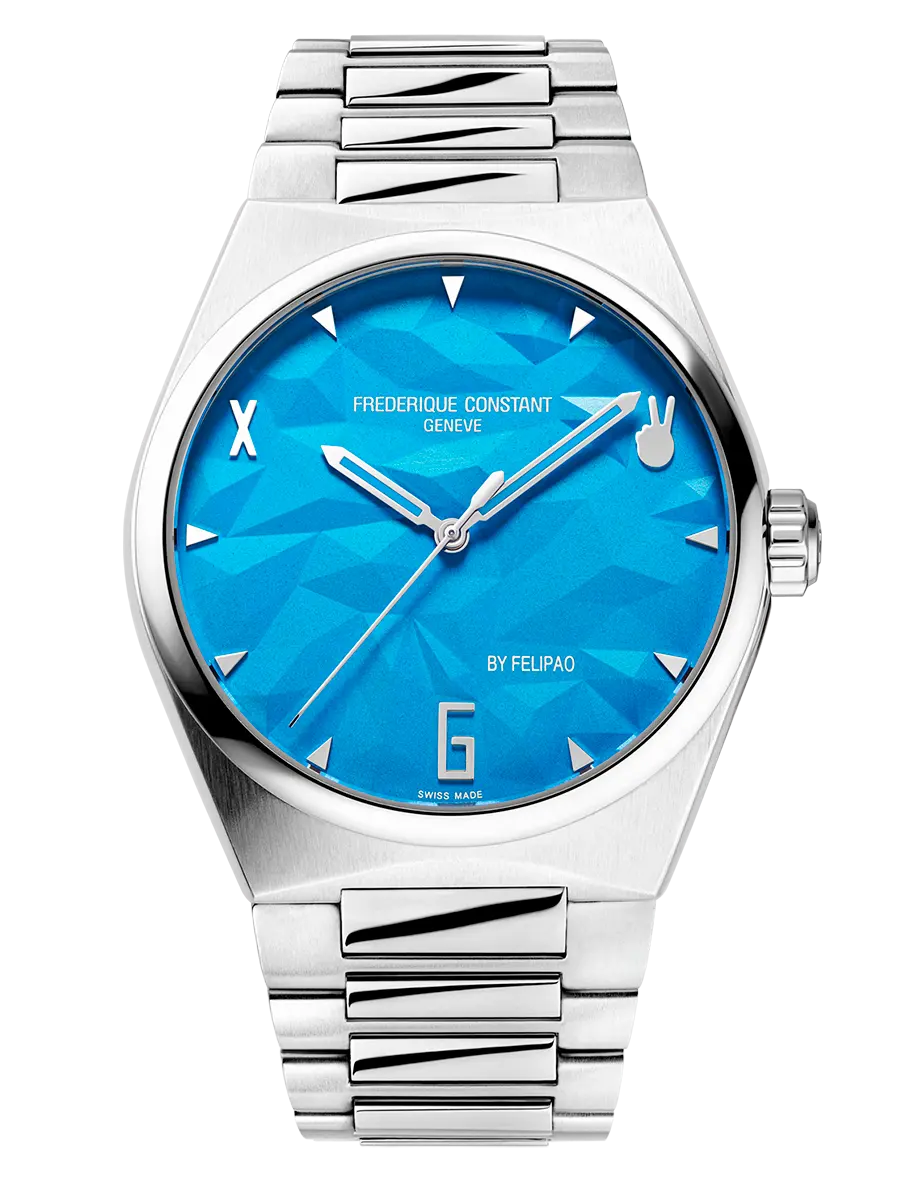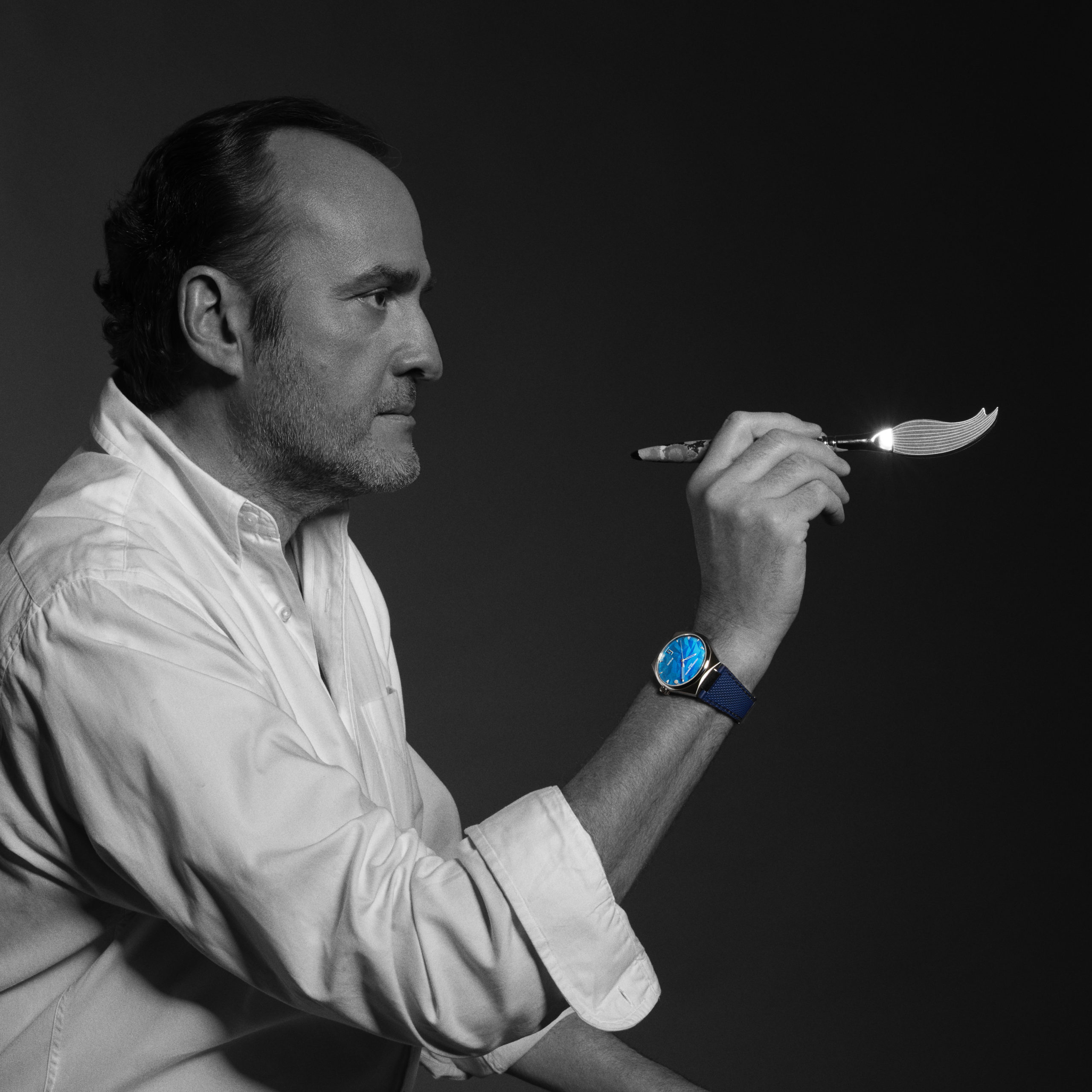 COSC CERTIFIED
Rarely are watches certified by the COSC (Official Swiss Chronometer Testing Institute). This certificate is only issued to pieces that can guarantee perfect isochronism over a given time and at given positions – in effect, their ability to tell the time correctly, consistently and precisely, within the strict limits enforced by an ISO standard. The COSC is an independent Swiss organisation that only issues its chronometer certificates to these pieces after the watches have undergone numerous tests over several days. COSC certified pieces form an elite, a class of their own, intended for collectors for whom "Swiss precision" is an everyday necessity. The Highlife Automatic COSC was developed especially for them.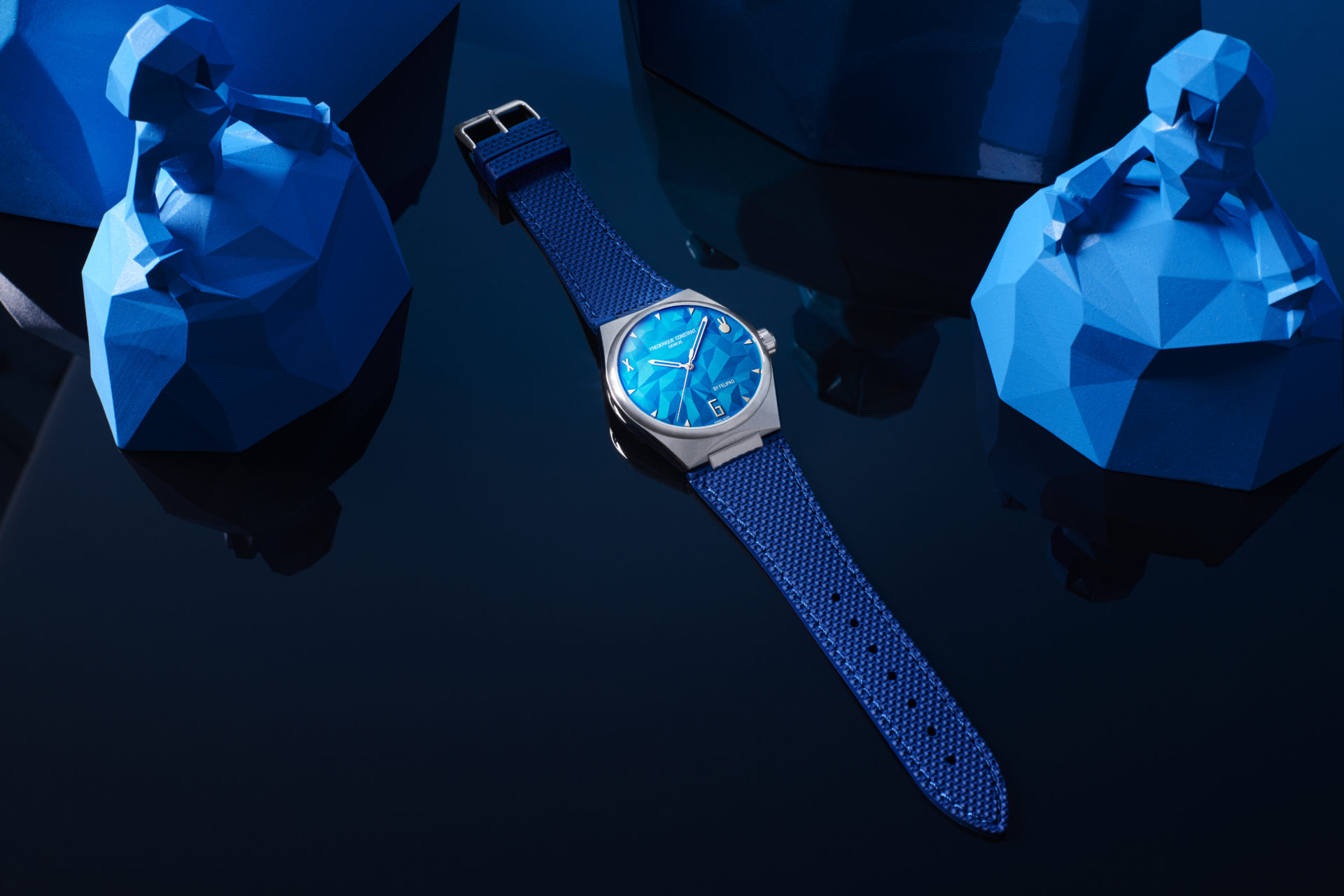 NUMBERED EDITION OF 100 PIECES
"It is an honor for Frederique Constant to have collaborated with the Spanish artist Felipao, for whose work we have great admiration. We feel fortunate to have shared with him the creation of the first special edition for Spain and the first watch inspired by the world of art. We both share common values based on making accessible, and providing happiness, to as many people as possible through art and watchmaking" Niels Eggerding, CEO of Frederique Constant.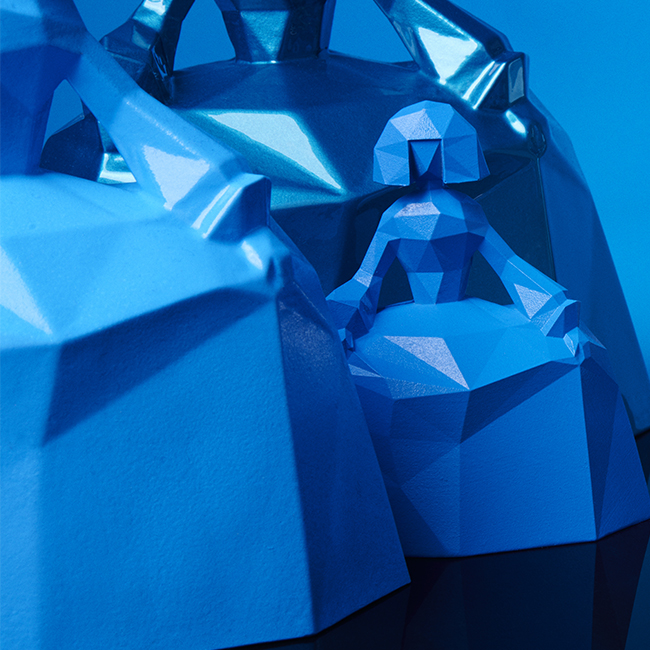 HIGHLIFE COLLECTION
The renewed Highlife collection has been chosen to be intervened by the Spanish sculptor Felipao. It is a limited and numbered edition of 100 pieces, presented in a polished and satin-finished steel case of 41 mm in diameter with a striking blue polyhedral ceramic dial, designed by Felipao. The dial combines three symbols representative of three relevant moments in history: the present, represented by the peace emoticon, the 6 inherited from the Arabic numeration and the X from the Roman.
Launched more than 20 years ago, the Highlife collection has been updated and improved with a new case design, interchangeable straps and bracelets and a delicate globe decoration on the dial that can be admired down to the smallest detail thanks to the sapphire crystal, which has an anti-reflective treatment on both side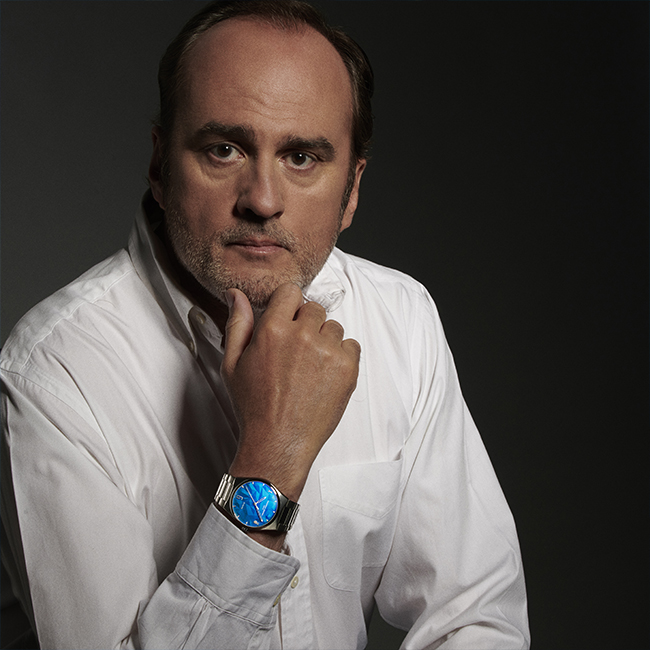 UNIQUE COLLABORATION
The artist and the Manufacture forged closer ties following a meeting with Niels Eggerding, CEO of Frederique Constant, during the launch in Madrid of the Gentleman Highlife Club, a unique space that brings together professionals from different trades who share with the Manufacture the same values of excellence and perpetuation of an exclusive traditional savoir-faire.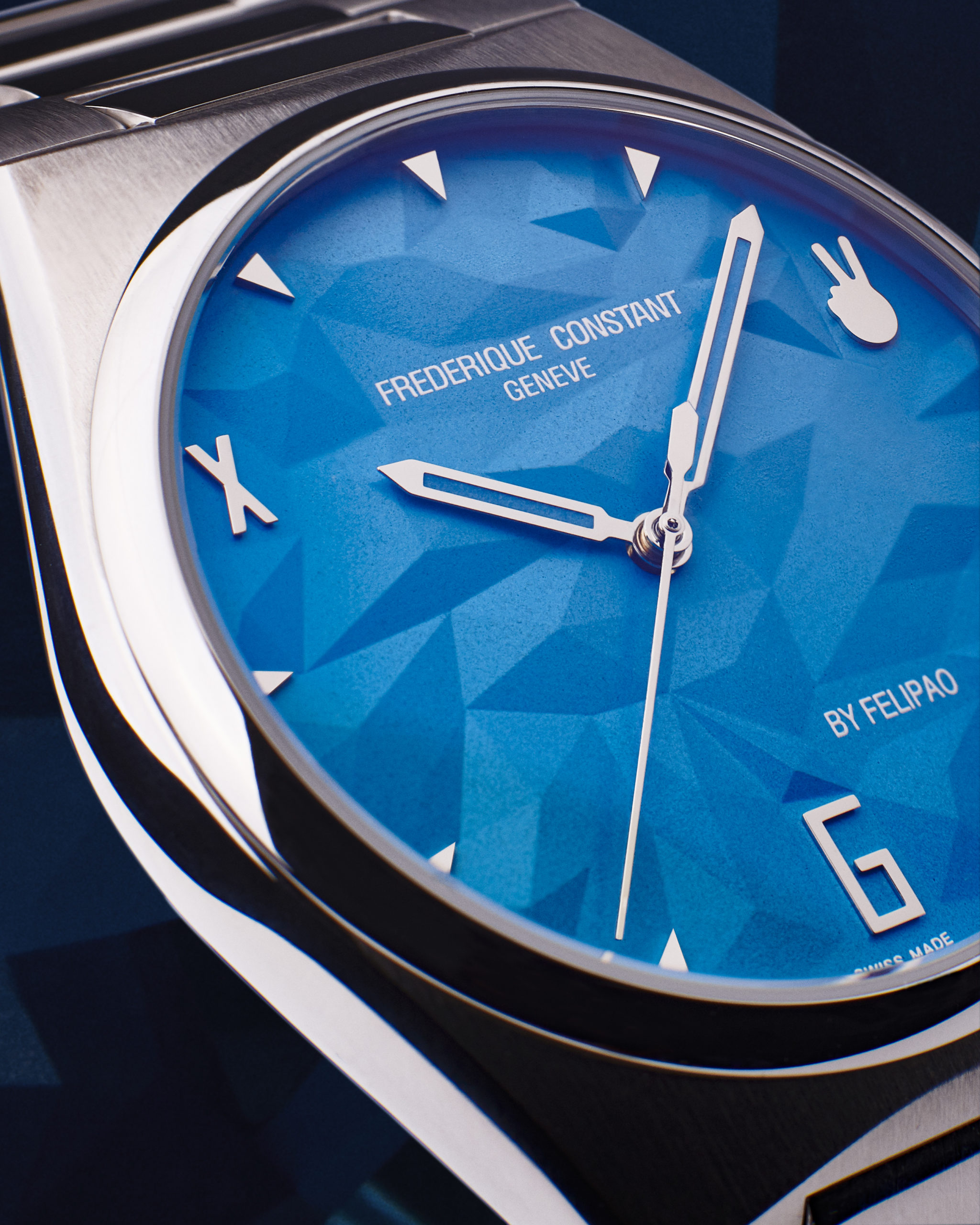 FELIPAO
Felipao is the artist's name of Felipe Garcia-Bañon Sanz-Briz. Born in Madrid and son of a diplomat, he has lived halfway around the world. This cosmopolitan life and the exposure to different cultures have allowed him to have a multifaceted vision of the world.
His works are in important private collections such as those of Juan Antonio Pérez Simón, Philippe Starck, César Gaviria, Solita Cohen, Koplowitz, March, Monthisa, Várez, Tomás Fuertes and Scarpetta, among others.
His Menina has been chosen as an institutional gift from the Community of Madrid to be given to illustrious visitors and as an award at the Queen Sofia Spanish Institute awards in New York. Similarly, one of his sculptures has been selected by the Spanish Football League as a gift to the 1,100 first and second division players in the 2022-2023 season.