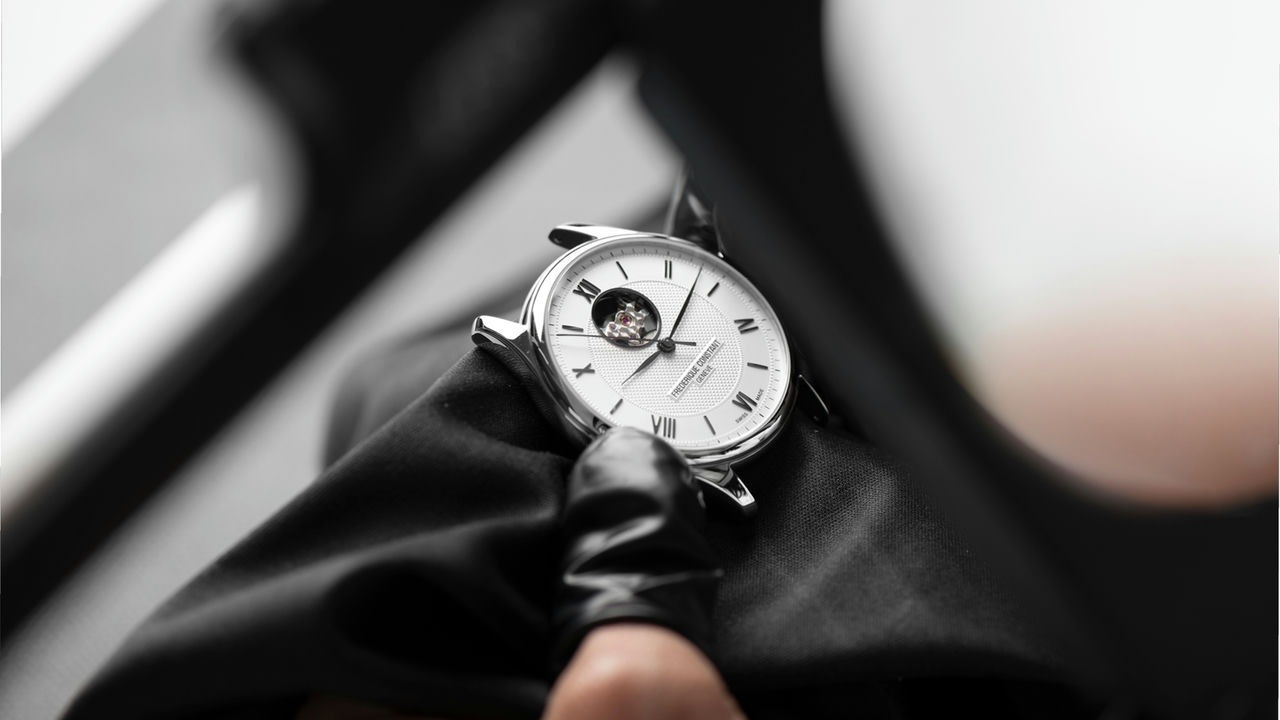 TAKING CARE OF YOUR WATCH
FREDERIQUE CONSTANT
WATCH CARE
Your watch is a high-precision instrument which requires specific care and attention. Please follow our advice and maintenance recommendations.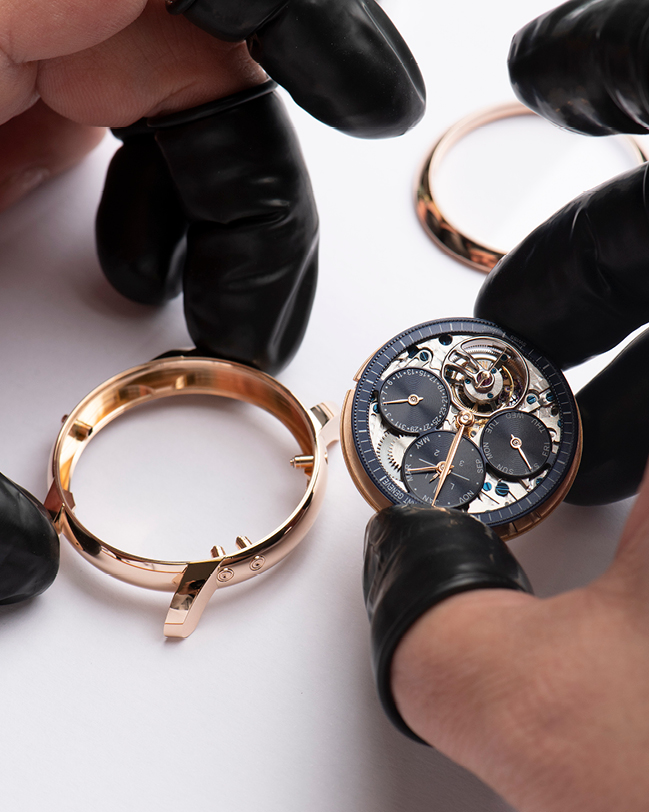 Manufacture
AFTER-SALES
SERVICE CENTERS
Your Frederique Constant watch is a fine instrument. Please treat it with care and avoid violent shocks and knocks as it will leave marks on the case (especially on gold cases) or it can harm the inner mechanism of your watch. Please also do not leave your watch in an area with high temperatures (i.e. in a car or in direct sunlight) or strong magnetic fields (loudspeakers, airport security) to avoid damage to the mechanism. The balance wheel in an automatic Frederique Constant watch swings 28,800 times an hour and the gear train moves forward 691,200 times in 24 hours. In four years, this represents over one billion impulses. We advise you to bring your watch every 3-4 years to an official Frederique Constant Retailer where a trained watchmaker will meticulously inspect it before cleaning and lubricating the movement thoroughly. You may check the Retailer Locator on the website for a service center near you or contact the distributor for your country.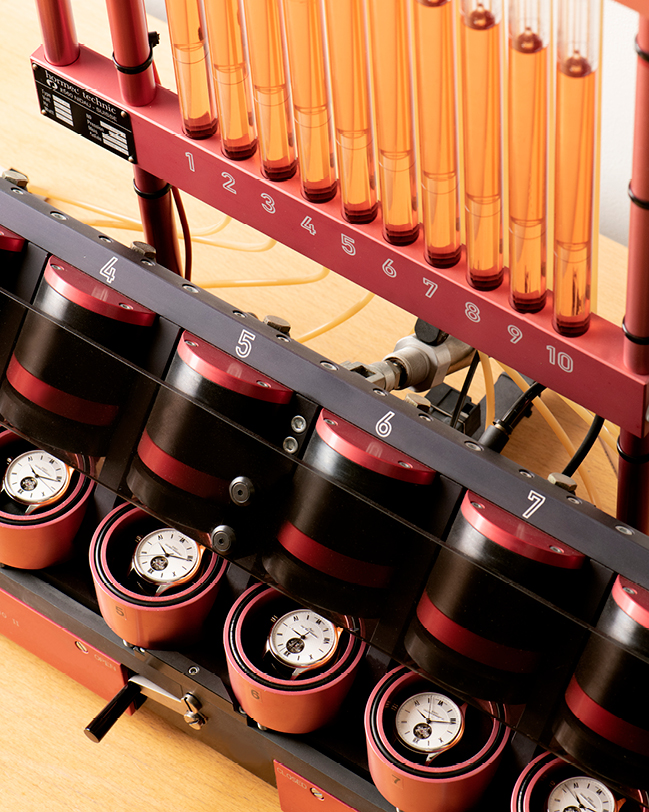 Manufacture
AFTER-SALES
SERVICE
After Sales Service is seen as one of the most important reasons to purchase high quality Swiss Made watches. At Frederique Constant we value a continued relationship with you, our customer. You may always contact us if you have any comments or questions. Your watch is guaranteed for a period of two years. Beyond, we also gladly service your watch for a minimal fee.
Manufacture
FREDERIQUE CONSTANT
WATER RESISTANCE
A watch is not water-resistant unless stated on the dial or case back. Watches, which are not noted as water resistant, should not be worn whilst washing hands, dishes or showering etc. The notation of water resistance to a given depth (e.g. 30m, 50m) is based on the fact that the case has been designed to withstand a static laboratory test to the stated depth. Most water-resistant watches are not designed for prolonged and active use in water. The only watches designed to withstand these types of conditions are professional divers watches. The figures quoted refer to static pressure. The actual water pressure on the watch during use will be greater than the static pressure.
For instance, diving pressure on the watch is clearly greater at the impact point with the water during poolside diving. Condensation can also be a problem. A sealed watch will pick up body warmth in water and this remains in the case. If the watch is then suddenly plunged into water that is some degrees colder, moisture can then be created within the watch and become visible as small droplets under the glass. This normally dissipates of its own accord once the watch is removed from the water, but this is not always the case. The watch may then need to be returned to the watchmaker for inspection.
3 ATM/98 FT
Suitable for everyday use. Will withstand accidental splashing but NOT suitable for swimming
6 ATM/164 FT
Suitable for everyday use and swimming but NOT for poolside diving, snorkelling or water sports.
10 ATM
Suitable for everyday use including swimming and snorkelling but NOT suitable for highboard diving or sub-aqua diving.
20 ATM
Suitable for all high impact water sports and scuba diving at depths NOT requiring helium gas. At these depths however it is recommended that a professional divers watch be purchased.
FREDERIQUE CONSTANT
ACCURACY
Each watch is individually adjusted and checked on its accuracy before leaving the workshop. Please find here the table of Frédérique Constant accuracy.
| | | |
| --- | --- | --- |
| FC-300, FC-303, FC-310 | MVT SW200 | -5 +24SEC / DAY |
| FC-315, FC-320, FC-330, FC-335, FC-350, | MVT SW200 | -5 +24 SEC / DAY |
| FC-325, FC-360, FC-306, FC-312 | MVT SW300 | -5 +10 SEC / DAY |
| FC-305, FC-610 | MVT ETA 2892 | -5 +15 SEC / DAY |
| FC-308 | MVT ETA 2893 | -5 + 15 SEC / DAY |
| FC-392, FC-393 | MVT SW500 | -5 +10 SEC / DAY |
| FC-435 | MVT 6497 | 0 +20 SEC / DAY |
| FC-700, FC-705, FC-710, FC-712, FC-715, FC-718, FC-720, FC-735, FC-760, FC-775 | MVT MANUFACTURE | -5 +15 SEC / DAY |
| FC-701, FC-702, FC-703, FC-723 | MVT MANUFACTURE | -5 +15 SEC / DAY |
| FC-910, FC-930, FC-915, FC-935, FC-941, FC-942, FC-945 | MVT MANUFACTURE | -5 +15 SEC / DAY |
| FC-975, FC-980, FC-985 | MVT MANUFACTURE TOURBILLON | -4 + 7 SEC / DAY |
| FC-395 | MVT ETA 7751 | -5 + 10 SEC / DAY |